About Us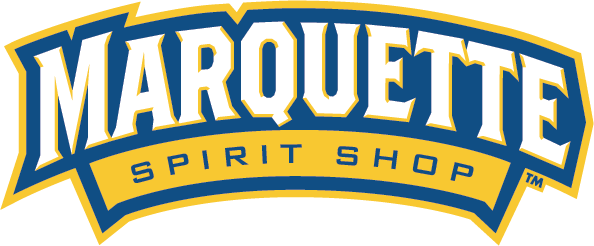 Marquette Campus Store

For us, the health and safety of our employees, students, customers and community is our top priority. Our team has been hard at work implementing safety measures as we re-open. We are following Marquette safety guidelines as well as local mandates.

The Spirit Shop will
Have health guards at checkouts.
Increased cleaning and sanitation efforts.
Physical distancing guides.
Require all guests to wear face masks.
Limit the number of guests in the Spirit Shop.
Spirit Shop Employees will
Wear face masks.
Complete health checks at the start of each shift.
Practice social distancing.
Wash and sanitize hands frequently.
Blue & Gold Friday Sale. Now through November 30, 2020.

The more you buy, the more you save.*

No coupon code needed. Discount will appear in shopping cart.



15% off $75
20% off $150
25% off $250
*ONLINE IN STOCK ORDERS ONLY. NOT VALID ON PRIOR PURCHASES. Not valid on Face Masks, Nursing Pin & gift card purchases. Online sale ends 11:59 pm, Central Time Monday, November 30, 2020.
FREE SHIPPING ON ORDERS OVER $100 EXCLUDES ITEMS SHIPPED DIRECTLY FROM MANUFACTURER OR AS NOTED ON THE PRODUCT. A SEPARATE SHIPPING AND HANDING CHARGE WILL BE ADDED TO THESE ITEMS AS NOTED ON THE PRODUCT.
Stop by and pick up some swag to show off your school spirit! The Marquette Spirit Shop is the official source for licensed Marquette University apparel, from sportswear to gifts. We are open seven days a week and located on the ground floor of the Alumni Memorial Union on the Marquette University campus, so you can get Marquette spirit wear when you need it. Our store hours do vary, so make sure you check below:

Store Hours
Weekdays: 9-6
Saturday: 10-4
Sunday: Noon-4

THE MARQUETTE SPIRIT SHOP CAMPUS STORE WILL BE CLOSED THANKSGIVING DAY THOUGH SUNDAY, NOVEMBER 29.
ANY ORDERS PLACED DURING THIS TIME WILL NOT BE PROCESSED UNTIL MONDAY, NOVEMBER 30, 2020.
Purchasing Marquette Golden Eagles clothing does more than make you look proud of MU. All purchases at the Marquette Spirit Shop support the Department of Intercollegiate Athletics and Marquette Student Athletes, so you can shop where your dollar matters.

Web Site Customer Service and Business hours:
Weekdays 9-4


If you would like to contact us:
We welcome any questions, comments or feedback that you may have about The Marquette Spirit Shop website, spiritshop.marquette.edu


Sales and customer service:
spirit.shop@marquette.edu
Address and phone:
Marquette Spirit Shop
1442 West Wisconsin Avenue
Milwaukee, WI 53233
(414) 288-3050
Directions:
We are located in the first floor of the Alumni Memorial Union on the Marquette University Campus. Click here to view map of campus.